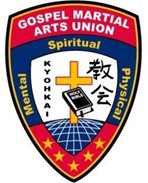 HMCC is home to the Horizon Morgan County dojo of the Gospel Martial Arts Union. GMAU is a Christ-based and focused system of mixed martial arts which uses Nippon Shorinji Kempo to combine the practical aspects of Shuri Ryu Karate, Kodokan Judo, Tuite Ju jitsu, Pachivas Pankration, Ueshiba Aikido, Kobujutsu, and kung fu.
We begin by teaching students practical self-defense, including how to recognize a situation and diffuse it before it starts; how to break holds from many approaches and angles, and what to do if an attacker knocks you down. It is life protection and conflict resolution. As part of that, we teach the basics of the system before more moving into the more advanced aspects and techniques of the system.
Every martial art has a philosophy at its core, and for most, it is an Eastern religion. At GMAU, Christ is at the center. We help students grow in wisdom. We focus on character-building and self-esteem from a Biblical perspective.
The main class is Thursday nights, starting at 6:30. This class is appropriate for beginners in this system of all ages. Once a student reaches a certain level, there is a separate class. The current class has students from age 7 to age 34.
Please contact James Boyd at 317-529-9879 for more information or to enroll.